---
PLEASE VISIT OUR NEW WEBSITE AT
http://cirencester.cats.org.uk/
Cats Protection rescues and rehomes unwanted and abandoned cats, and promotes responsible cat ownership.
Key Aims
To rescue stray and unwanted cats and kittens, and rehabilitate and rehome them where possible.

To encourage the neutering of all cats and kittens not required for breeding.

To inform the public about the care of cats and kittens.
Nationally, every year, Cats Protection provides a vital lifeline for 170,000 cats that need our help.

We find new and life-long homes for around 60,000 cats every year – an average of one rehomed every two minutes. Every cat that comes into our care stays with us until we find it a new home. We therefore maintain a strict no-kill policy unless otherwise advised by a vet.

We also help tens of thousands of cats a year through our assisted neutering and veterinary treatment programmes. This involves contributing to the costs of treating cats whose owners are in dire financial need.

Our service is provided via a network of 30 Shelters (run directly by our Headquarters) and 260 Branches (run by volunteers) throughout England, Scotland, Wales and Northern Ireland.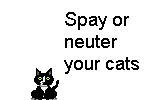 View a gallery of cats that we have rescued and rehomed over the past 4 years